Pohjolan Liikenne utilises Labkotec's technology in transportations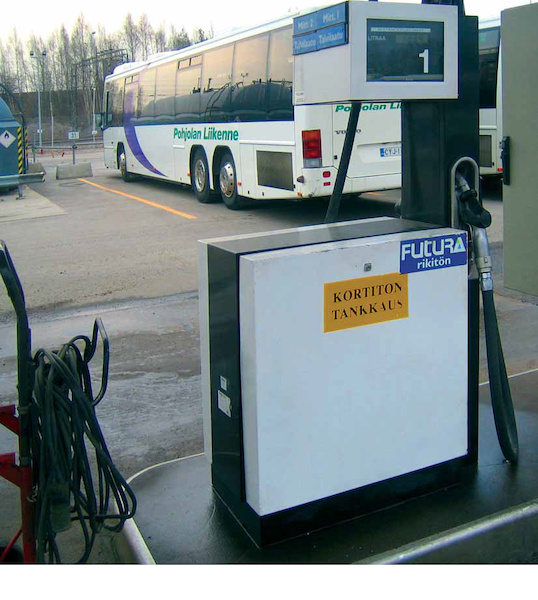 Pohjolan Liikenne utilises the latest technology to make bus traffic more economical, comfortable and less emission-intensive. The company operates nine bus depots and five refuelling points for its passenger traffic. All depots have been brought to the KTM 415 standard by providing them with LabkoMax sensors, among other things.
LabkoNet® is used as support for both environmental protection and logistics. The level measurement and oil trap alarms of the tanks have been linked to LabkoNet. In terms of logistics, at issue here are 8 million litres of diesel oil at an annual level, for the transportation of which 400 road tankers of 20,000 litres are needed.
Setting the alarm thresholds correctly is crucial 
When an order limit alarm is received from the fuel tank, an order is automatically sent to the transport company responsible for maintaining a sufficient amount of fuel in the tank. The alarm limit is set in such a way that there will be enough fuel for the weekend even if the order is sent on Friday afternoon, for example.
"The main thing is to have enough fuel at all times. This is taken care of by the transport company. People simply cannot be left standing on bus stops. The delivery can take place on Monday morning; urgent weekend work is not necessarily needed. When the system was installed, all tanks were calibrated to attain sufficient accuracy," says Jorma Haapasalo, Technical Manager at Pohjolan Henkilöliikenne Oy.
"We no longer need to worry about placing the orders"
"Thanks to LabkoNet, we are able to divide the transportations over the entire week, not just on Monday and Friday as is customary with traffic fuel deliveries. This also makes it possible to have as large delivery lots as possible, so that we are always able to drive a full load in each direction. In practical terms, this means that we no longer need emergency deliveries."
LabkoNet supports environmental protection and logistics.
LabkoNet makes planning of transportations easier.