Downloads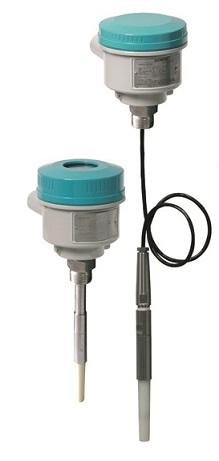 Request for quotation or ask for more information
Pointek CLS200 is a versatile inverse frequency shift capacitance level switch with optional rod/cable choices and configurable output, ideal for detection of liquids, solids, slurries, foam and interfaces.
The digital version (with PROFIBUS PA) includes a display and provides additional diagnostic features.
The Pointek CLS 200 is offered in standard and digital versions.
The standard version has 3 LED indicators with basic relay and solid-state switch alarms.
The digital version provides an integral LCD display for standalone use, and also provides PROFIBUS PA communication (profile version 3.0, Class B) for connection to a network.
The power supply is galvanically isolated and accepts a wide range of voltages (12 to 250 V AC/DC for standard version and 12 to 30 V DC for digital version). The stainless steel and PPS (PVDF optional) materials used in the probe construction provides a temperature rating up to +125 °C (+257 °F) on the process wetted portion of the probe. The switch responds to any material with a dielectric constant of 1.5 or more by detecting a change in oscillating frequency, and it can be set to detect before contact or on contact with the probe.The CLS200 operates independently of the tank wall or pipe so it does not require an external reference electrode for level detection in a non-conductive vessel such as concrete or plastic.
Modular design and construction provide a wide choice of configurations, including rod, cable and sanitary versions. When used with a SensGuard protection cover, the CLS200 is protected from shearing, impact and abrasion in tough primary processes.
Key applications: liquids, slurries, powders, granules, pressurized applications, hazardous areas
Potted construction protects signal circuit from shock, vibration, humidity and/or condensation
High chemical resistance
Level detection independent of tank or pipe earth reference
Insensitive to product buildup due to high frequency oscillation
High sensitivity allows installation in a wide range of liquids, solids or slurry applications
Integral LCD display allows for easy setup of CLS 200 when you can configure switching threshold, even under the most demanding process conditions.
Extended rod, cable and sanitary versions available
Standard version: 3 LED indicators for adjustment control, output status and power – SIL/IEC61508 compliant for use in safety integrated level applications for overfill protection (SIL 2)
Digital version: integral LCD display, and optional PROFIBUS PA communication
---