Downloads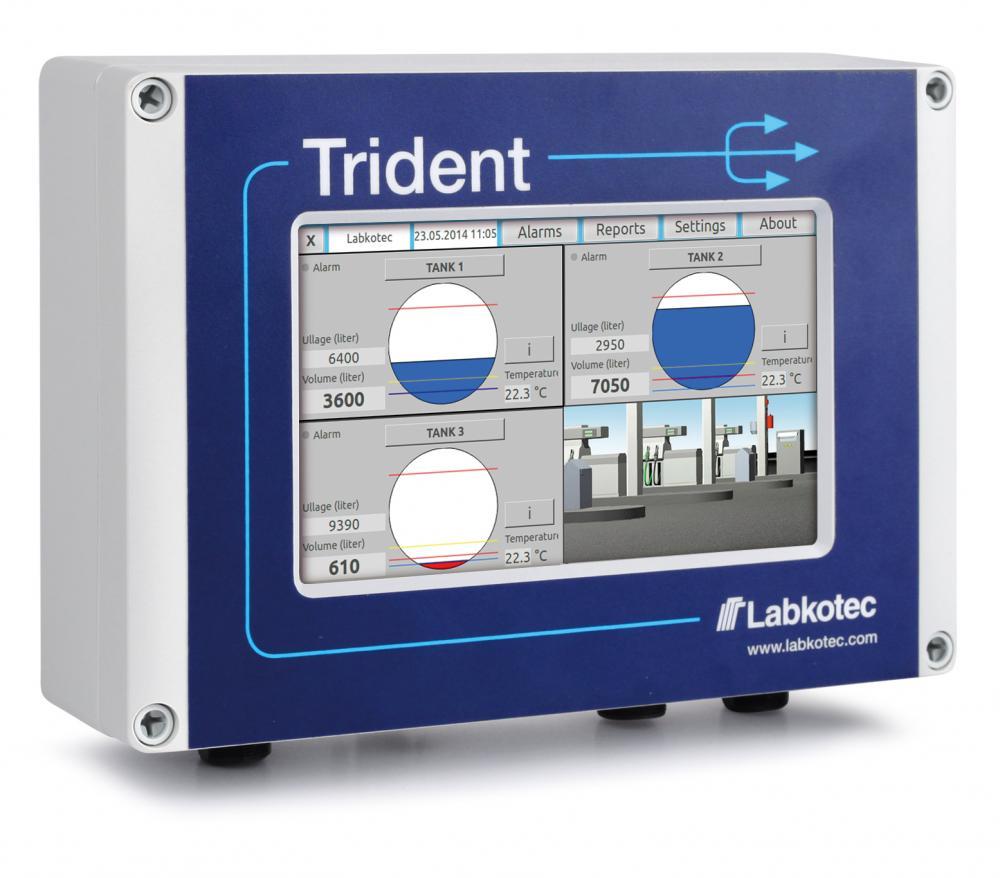 Request for quotation or ask for more information
Not available for purchase.
Please contact Labkotec sales team.
Trident is a fuel level measurement monitor, which can also be used to control storage tanks.
The properties of Trident make it extremely well suited for either commercial or non-commercial fuel storage applications. Principal applications include service stations, terminals, refineries, or other fuel storage and distribution facilities.
Trident features a 7" colour touch display, which enables the monitoring of the fuel measurement, temperature and water data for up to 16 containers. The available capacity of the tanks is also shown on the main display. The display is capable of providing data simultaneously in respect of four tanks. Labkotec's precision surface level sensors, combined with Trident's versatile properties, provide the user with an effortless and convenient method to monitor storage tanks.
Trident is very well suited for optimising tank capacity and logistics. A scalable data display of the fuel and temperature trends for any defined period can be produced in respect of each tank. Trident's connections also enable the transfer of tank information onto higher systems.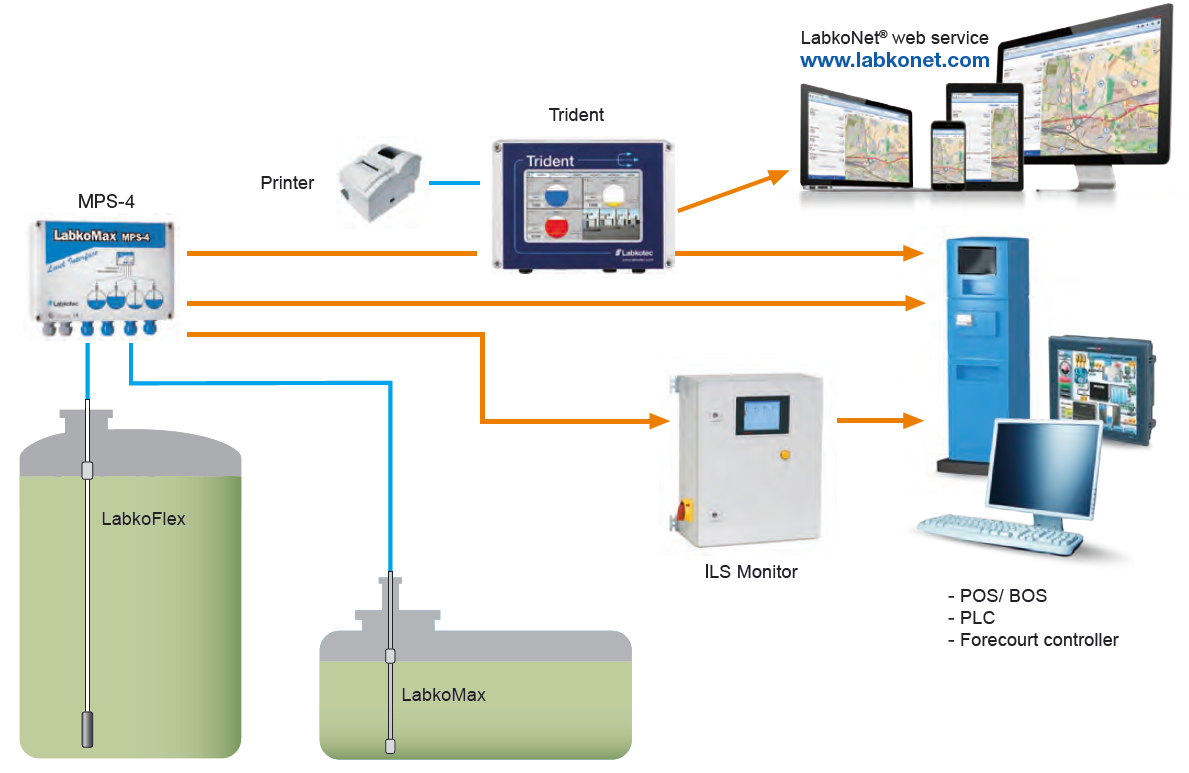 Alarms
Trident provides four separate alarm interfaces in each container. This allows the user to make certain that the containers always have an adequate quantity of product remaining. Any potential condensate water can also be detected, and the alarm raised, long before any water is carried to customers during refuelling.  Each individual alarm will show in its own alarm window. As long as the alarm continues, it will also show on the tank display. The alarm history may be browsed under the alarms tab.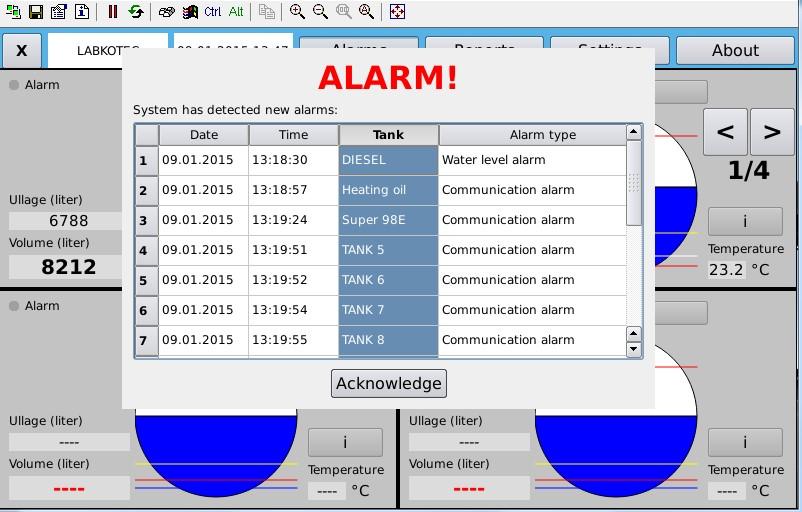 Reports
Extensive reporting features make it possible to obtain wide-scale data concerning the storage products. Such reports consist of the current storage position, storage history, as well as monthly reports with updates. All reports may be printed with a standard A4 printer or a separate receipt writer. Also, the reports may be copied onto a USB memory stick and, consequently, easily transferred onto a PC, which recognises the reports as an Excel file. Subsequently, the reports may be archived or sent e.g. to the accountant.
Reporting bypasses the need for manual daily measurement of the tanks, and rules out the risk of human error in taking the surface level readings. Occupational safety will also benefit, because any superfluous entry to the measurement field can be avoided.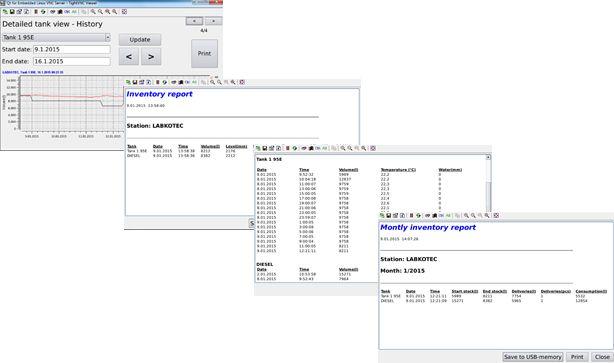 Leak detection monitoring
With Trident, it is possible to set up static leak detection monitoring, around the clock, for each individual tank. The leak alarm trigger limits are adjustable. Any leakage incidents will be also recorded under the alarm history.
LabkoNet Fuel web service
Trident is compatible with LabkoNet. There is no need for a separate data transmission device, Trident will transfer the surface measurement, water and temperature data to the LabkoNet server via FTP protocol, where it can be easily reviewed using any Internet browser. Data transmission frequency may be chosen by the sender. Trident is compatible with both static and dynamic IP addresses.
LabkoNet Fuel will ensure that the fuel will not run out just when the sales are peaking. The distribution station can monitor the surface level data in real time, and the Deliveries Manager is quickly able to check the situation with the tanks. Alarms may be directed in real time to their appropriate end destinations. The LabkoNet Fuel service also contains extensive reporting features, which are capable of easily managing even large numbers of distribution stations.
Remote monitoring
From a static IP address, Trident may be contacted via e.g. a computer, tablet or mobile device using the VNC (Virtual Network Computing) technology. Trident's settings may be reviewed or adjusted remotely.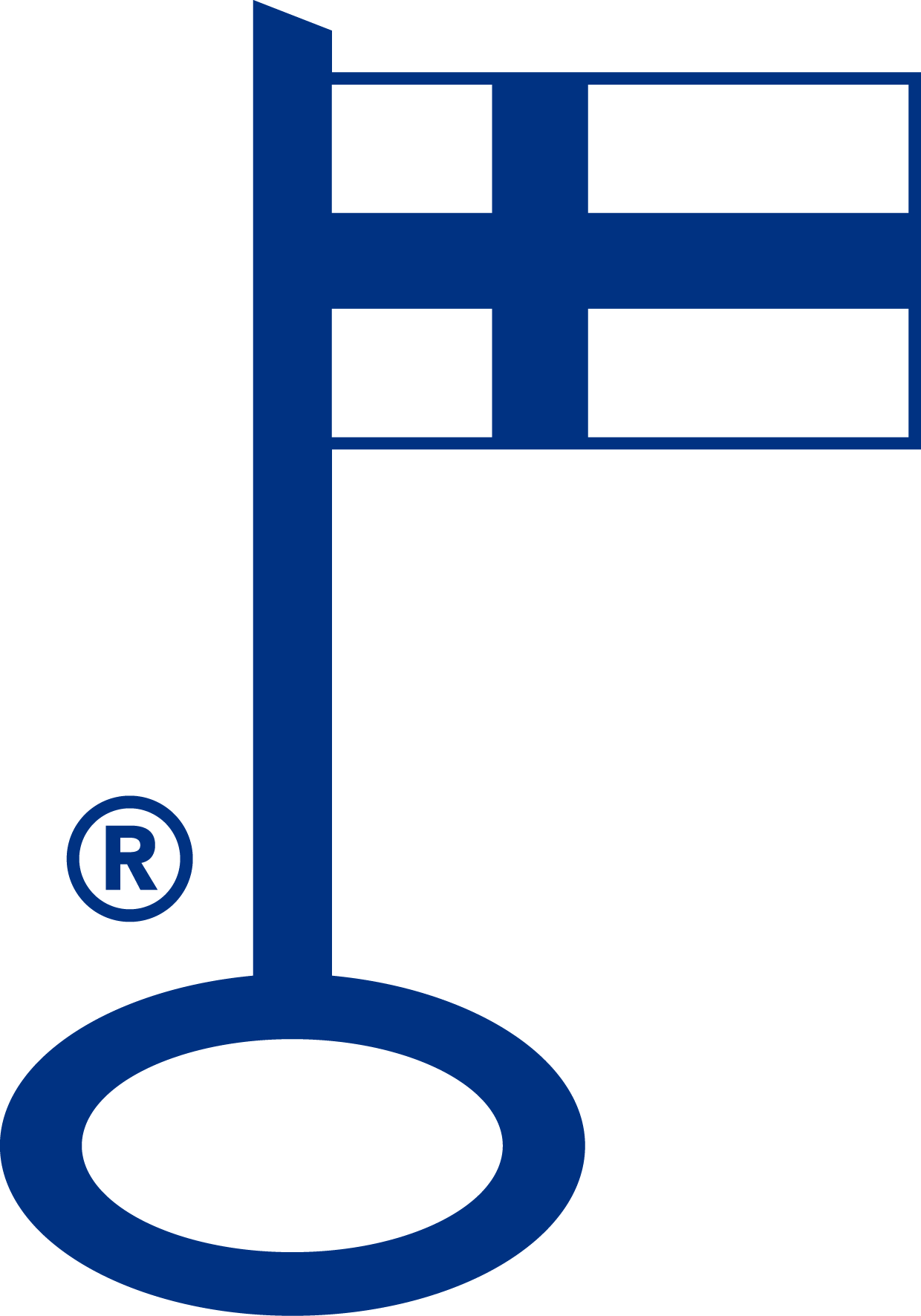 ---